TOP RAISIN PRODUCING COUNTRIES 2021
Turkey
United States
Iran
The top exporters of raisins are concentrated in these three countries. Iran and Turkey have remarkable conditions for natural raisin production, and you can get the best raisin at the lowest price in these two countries. The USA also has the advanced technology, with California leading the way in all USA states. California is the only state that produces 20 percent of the world's raisins.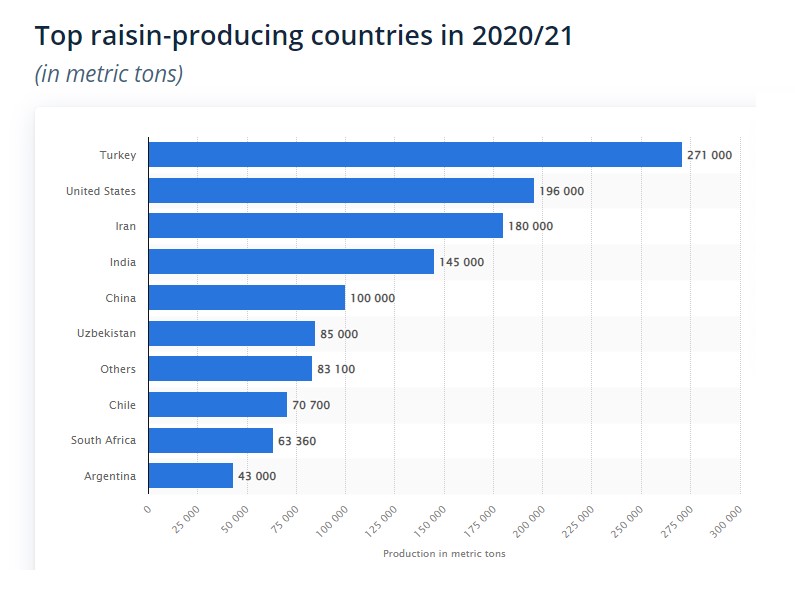 Iranian raisin is a delicious dried fruit. It is used in the preparation process of a variety of foods, sweets, cookies, cakes and other confectionery ingredients. You might have eaten the most delicious birthday or homemade cakes using variety of raisins. This product is one of the prominent sources of income for the countries producing and growing grapes. Iran also has the best opportunities to produce all kinds of raisins for export. Some types of exported raisins have a dark brown color while others have a light color. You can make the most delicious recipes for special types of rice using a variety of pilaf raisins.
Iranian dried raisins as one of the strategic products of this country are made of reached grapes. Drying grape and producing raisin has a long history. Fertile agriculture, high quality lands, and the use of modern and organic technologies in Iranian raisins production has made this country as one of the largest exporters of the product, and thus Iranian raisins now have a proper position in the world.
1.Golden raisins
Golden Raisins are grown in most parts of Iran. This type's color is amber with a naturally sweet and fruity flavor. These sweet and chewy raisins are delicious snacks on their own, but can also be added to trail mixes, baked foods and also granolas to make an extra healthy snack.
2.Sultana Raisins
Sultana Raisins are made of the best seedless grapes. To reach the desired quality, all raisins are washed and sorted twice in each process, dipped in edible oil and finally dried. Iranian sultana raisins are available in two colors; light brown and dark brown, and are meant to be sweeter than others.
3.Kashmary Raisins
Kashmary Raisins, also known as long raisins are produced from local types of Iranian grapes. They are green in color and are popular for those who dislike the extreme sweat flavor of other raisin types.
Iranian raisins for export
Iranian raisins have granted the country the third place in the world to export to other countries, followed by Turkey and the United States. As you know, raisins are the same as dried grapes, and in the Iranian market, all kinds of export raisins can be found depending on the type of grapes, the drying conditions and the additives. Also, due to the possibility of long-term storage of the product in dry and cool conditions, it is possible to buy and sell exported raisins during the year.
Iran is the third-largest exporter of any kind of raisin in the global by exporting more than 150,000 Million Tones(27% international consumption) of raisins worth around 250 million dollars annually. The benefit of Iranian Raisins is mainly its price, minerals, and different strategies of rate, minerals, and processing, and that's the cause why Iranian Raisins minerals are among the best raisins in the world.
If you have any questions or any inquiries, do not hesitate to contact us via either the below form or the given information and be sure that our staff will reply to you in the shortest time. It would honor for us to answer your question and requests.