Raisins are produced in many regions of the world and were first produced in ancient Iran and Egypt more than 2000 years ago. Raisins can contain up to 72% sugars by weight, most of which are fructose and glucose.
Raisins are dried grapes, specifically dried white-fleshed grapes. These grapes are initially green in skin color and darken as they dry, becoming a dense, dark-colored dried fruit containing small seeds and bursting with a sweet taste. Raisins are commonly produced in the U.S., Turkey, Iran, Greece, and Australia.
Raisins are usually eaten out of hand; mixed into foods like oatmeal, granola bars, and chutneys; and used in cakes, pies, and other baked goods. They're frequently soaked in flavorful liquids before being used in baked items, as they easily soak up the liquid.
Use Raisins instead of sugar
Raisins are an exceptional supply of naturally occurring chemical compounds called phytonutrients, such as phenols and polyphenols. Those styles of nutrients are considered antioxidants. Researches have shown that raisins contain phytochemicals that could promote healthful teeth and gums. Phytochemicals present in raisins, including oleanolic acid, linoleic acid, and linolenic acid, combat the microorganism on your mouth that leads to cavities. In other words, eating raisins in place of sugary snack foods can truly keep your smile healthy.
Are raisins good for you? In answer, we must say that one-half cup of raisins will give you 2.7 grams of fiber, or roughly 6 to 12 percent of your daily needs, depending on your age and gender. Then, the answer to the question is yes, raisins are good for you.
Raisins are an amazing supply of iron. One-half cup of raisins consists of 1.4 milligrams of iron. That's approximately 7 percent of the recommended each day quantity for most adult ladies, and 17 percent for adult men.
Raisins have about 36 milligrams of calcium per half of-cup serving. This translates to about 5 percentage of your day-by-day needs.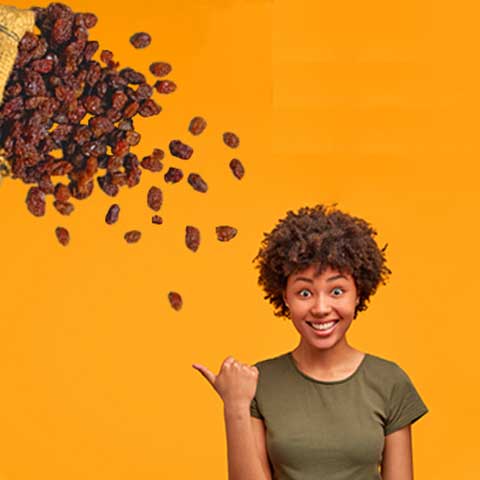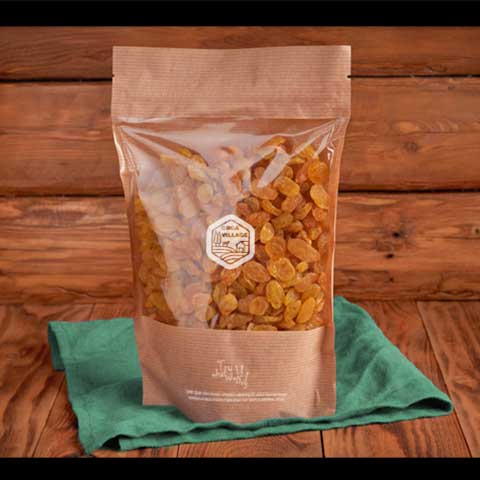 difference between raisins
While all three are sorts of dried fruit and used in similar ways, there are numerous things that set raisins, sultanas, and dried currants(each true currants and Zante currants) other than each other.
Raisins, sultanas, and Zante currants are all sweet dried fruits that stem from different sorts of vine-grown grapes, even as currants really are a clean bush-grown berry this is tart rather than sweet. Currants are also sold dried, however, they're no longer as comfortably available as sultanas and raisins.
Golden Raisins (Angoori)
The product in the process is from seedless grapes of the Vitis vinifera variety. Golden Raisins are grown in the sunny vineyards of Bonab, they are made using sulfur fumigation process and color dried so they are golden amber in color with a naturally sweet and fruity flavor. This popular type is produced from grapes with special natural characteristics and a particular sugar level. these characteristics are simply available in grapes grown in Bonab vicinity and this city is the best and best manufacturer of this form of raisins in Iran. After being double washed, golden raisins are dried, coated with vegetable oil, stemmed, mechanically cleaned, laser, and hand-sorted then metal detected under the extreme care of hygienic conditions and with legal and safety requirements and the customer's special specifications.
Sun-Dried Raisins / Black Raisins
Kashmari Raisins (Golden / Green)
Sultana & Malayer Raisins (light / dark)
Raisin is in terms of production after date, but it has a much higher role than the dates on world markets.
More than 80% of raisin exports are made through Turkey, Iran, Greece, the USA, and Chile.
In the world, the import of raisins may be very excessive and it can be said that many countries import raisins, among them, maybe named the UAE, Russia, Ukraine, Germany, Egypt, Canada, Pakistan, Turkey, Spain, and Kuwait.
You need to know that Turkey and Emirates are also importers of raisin despite they are the production of it!
The history of raisin production in Iran goes back hundreds of years ago and it is interesting to know that Iran is ranked first in terms of diversity in raisin manufacturing.
Due to the climates and conditions of Iran's weather, it is one of the most susceptible countries producing types of horticultural products, especially grapes and raisins, which places Iran in the top ten most vital countries in the area of gardening. among the 85 grape types produced in Iran, white grape is used to export raisins.
In general, Iranian raisins are five types, including:
Golden raisin
Currants
Sultana raisin
Green raisin
Sunny raisin
And they have a high quality for export all around the world.
Iran is the third-largest exporter of any kind of raisin in the global by exporting more than 150,000 Million Tones(27% international consumption) of raisins worth around 250 million dollars annually. The benefit of Iranian Raisins is mainly its price, minerals, and different strategies of rate, minerals, and processing, and that's the cause why Iranian Raisins minerals are among the best raisins in the world.
Sepcotrading company exports the best kind of Iranian dried fruits and nuts like dried raisins at the most affordable prices all around the world.
If you have any questions or any inquiries, do not hesitate to contact us via either the below form or the given information and be sure that our staff will reply to you in the shortest time. It would honor for us to answer your question and requests.