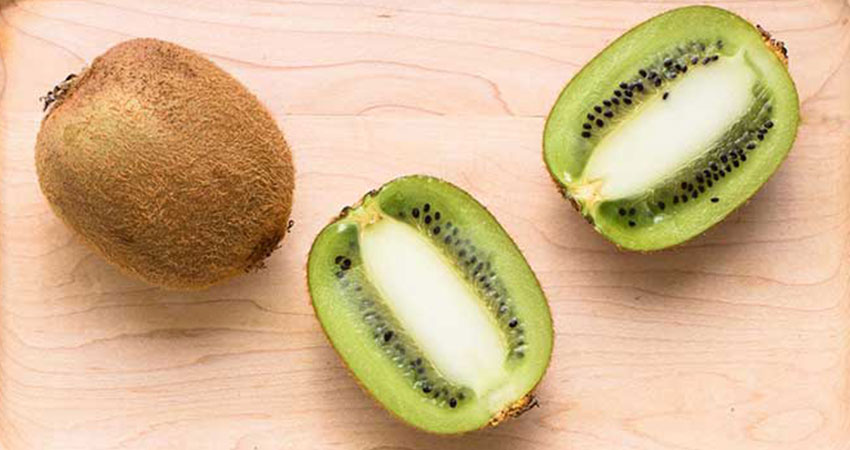 Kiwi export from Iran is one of the economic trades that has a considerable return on investment. Annually, about 30% of all kiwifruit products in Iran are exported to other countries and Iranian fresh kiwi exports amounted to 104 thousand tons worth $47 million in 2020.
Turkey is one of the most important exporters of fruits to neighboring countries, but this has not stopped the export of Iranian fruits such as kiwi to this country.
Some parts of the exported kiwi to Turkey may finally find another destination. Turkish people have brilliant opportunities in the field of re-exporting to other countries and this has made them more interested in importing Iranian kiwi.
Kiwi exports from Iran to some neighboring Arab countries are so popular. Kiwi exports to Iraq by land have flourished in recent years. One of the advantages of the Iraqi market is its being easy for exporting from the land borders and also then selling in the destination territory. Kiwi is generally exported from the border of Kurdistan. Iraqi Kurdistan has traditionally been a negotiating point for Iranian exporters and Iraqi businessmen.
Russia is one of the main destinations for kiwifruit exports. Russia's cold climate does not meet the needs of the country's population of 200 million. Turkey is one of the main exporters of fruit to Russia, but Iran has the upper hand in the kiwi field.
Shipping via the Caspian Sea is easy, but it should be noted that working with Russian businessmen is not that easy, and in recent years banking problems have made this type of trade more difficult. Therefore, in the following, we will introduce the safest way to export kiwi to other countries.
Kiwi Export by sepcotrading
In Sepcotrading Company, kiwi is carefully sorted after being harvested from the garden so that they are ready to be packed in cartons or boxes. The Iranian government has always tried to facilitate the export process, and neighboring countries are not so strict in importing fruits and vegetables, Because the trade balance of countries such as Russia, Turkey, Iraq, Emirate and Oman in the field of fruits and vegetables is always negative and their consumption is more than they need. At the same time, export is generally not a simple process, and the final purchase price is higher in some markets. For this reasons, it is recommended to export kiwi to neighboring countries through companies such as Sepcotrading.
Lots of factors and conditions effect on wholesale prices of kiwi fruit in the international markets.
First and the most important factor is type of kiwis, as there are variant species.
The season of the harvest is also significant.
Climate of the farming region is also affecting the kiwi price.
Also the costs of packaging, distribution, security and labor also added to the final price.
FOR ORDER KIWI FRUIT FILL THE FORM BELOW!
Largest producers of kiwi fruit in the world
China(2.1M tons) established the country with the biggest volume of kiwi natural product creation, representing half of complete creation. Besides, kiwi organic product creation in China surpassed the figures recorded by the world's second-biggest maker, Italy(555K tons), fourfold. New Zealand(437K tons) positioned third as far as all out creation with a 10% offer.
In China, kiwi organic product creation extended at a normal yearly pace of +5.4% over the period from 2007-2018. The leftover delivering nations recorded the accompanying normal yearly paces of creation development: Italy(+2.6% each year) and New Zealand(+1.1% each year).
From 2007 to 2018, the normal yearly development pace of volume in China added up to +6.1%. In different nations, the normal yearly rates were as per the following: Italy(+8.8% each year) and Iran(+7.8% each year).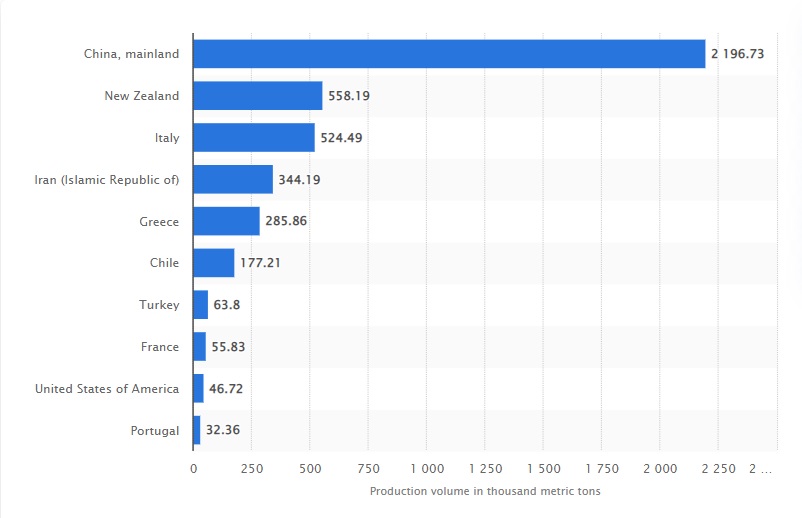 Export high-quality kiwi all around the world!
New Zealand(417,000 tons) and Italy(289,000 tons) were the main exporters of kiwifruit in 2018, accounting for nearly 29% and 20% of total exports, respectively. Chile(183,000 tons) ranked second, followed by Greece(135,000 tons), Belgium(109,000 tons) and Iran(93,000 tons). All these countries together accounted for nearly 36% of total exports.
From 2007 to 2018, among the major exporting countries, the most significant export growth rate was Iran, while the growth rates of other global leading countries were more moderate.
From 2007 to 2018, the average annual growth rate of China's cargo volume reached +6.1%. In other countries, the average annual interest rates are as follows: Italy(+8.8% per year) and Iran(+7.8% per year).